WHAT OUR CUSTOMERS SAY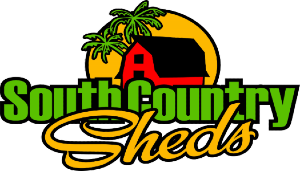 Celene – Port Charlotte, FL – S8X16 – MAY 2012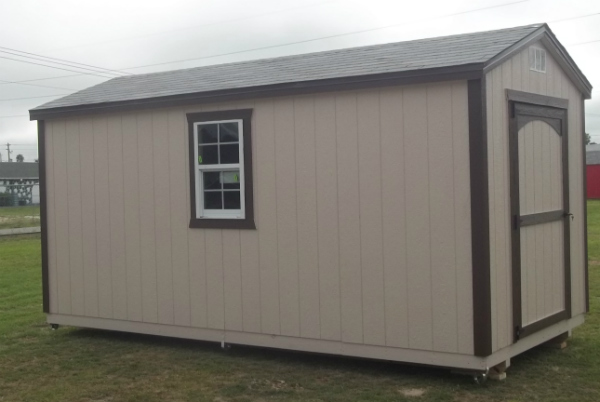 Dear South Country Sheds, I just wanted to take a moment to thank you for your service and our wonderful new Storage Shed. We are so very pleased with the quality and workmanship that went into the construction and best of all how you made it affordable for us. We highly recommend South Country Sheds.. they really do build the best sheds around. Signed, Happy customer, Celene – Port Charlotte, FL
Chandra – Bradenton, FL – S8X12 – JULY 2012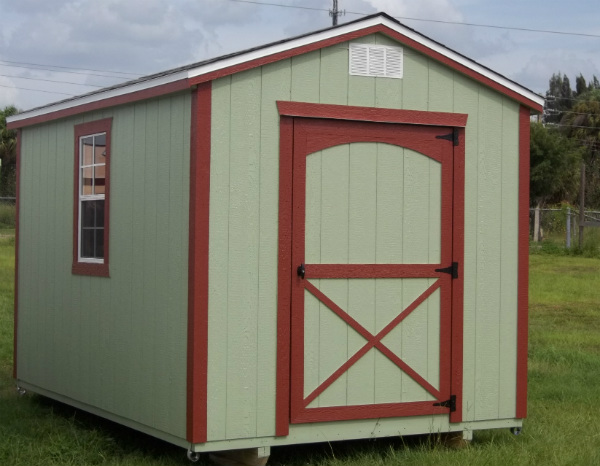 Good afternoon. I have been looking for a shed for a few years, but I could not find one that fit my needs and price range. I shopped around Manatee and Sarasota counties periodically with no luck. Two friends had purchased expensive plastic sheds that include a floor and both leaked and their inventories were ruined. Another friend purchased a metal shed, which was ugly, noisy and eventually rusted. A few months ago I was searching for sheds on the internet and found a picture of a South Country Shed. It was beautiful, but I didn't get my hopes up because it looked too expensive for my budget. I went to the website and was impressed at the selection and the reasonable prices which include free extras that other companies charge for. I called Orlando and he worked around my limited time frame (after getting trees cut down and before having the fence put up). The shed was delivered on time and the driver was an expert driver–he had to maneuver an obstacle course, but got the shed to the back without damaging anything. He had a great attitude, too. My shed is well constructed, beautiful and matches my house perfectly! There were no hidden charges and I am extremely satisfied. Thank you, Chandra – Bradenton, FL
Rich and Rebecca, North Fort Myers, FL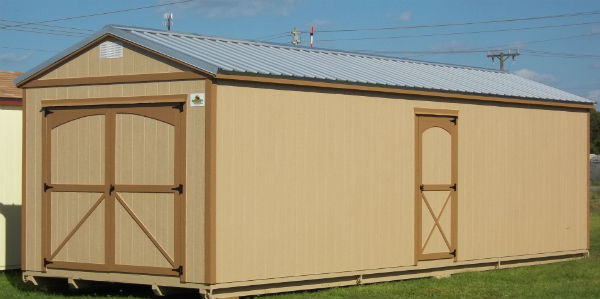 We searched for a shed for approximately one month before making the decision to purchase from South Country Shed. We were very impressed with the layout of the shop, the fact that we could see our shed being built anytime we wanted (because it's a local company) and the family feeling you get when dealing with the staff. The company delivered the product right on time, communication with them was exceptional and we are very happy with the product. I will recommend South Country Sheds to everyone I know. Thanks, Rich and Rebecca, North Fort Myers, FL
Karen – Port Charlotte, FL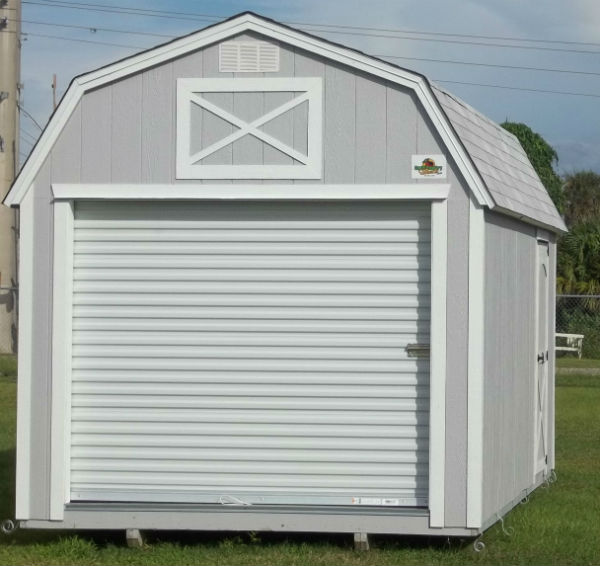 I shopped all over Florida for my shed. I decided to go with South Country Sheds because of their customer service (Orlando is wonderful!!)…and honestly, because they had the best shed for the best price!! Thank you South Country Sheds, Karen – Port Charlotte, FL
Karen – Bradenton, FL
Dear Orlando – I love my South Country Shed! We purchased the 10'x20' lofted barn and are very pleased with it. We worked with Vaughn on the sales and ordering process and it went very smoothly. I was very impressed with the young man's knowledge and professionalism. The shed was built exactly as specified. The installation went perfectly. I was amazed at the skill of the installer since we had such a tight location for it to fit in. Somehow he managed to pull it off! Overall I would rate our experience with South Country Sheds as extremely positive. I have already recommended you to several friends. Karen – Bradenton, FL
Rita – Port Charlotte, FL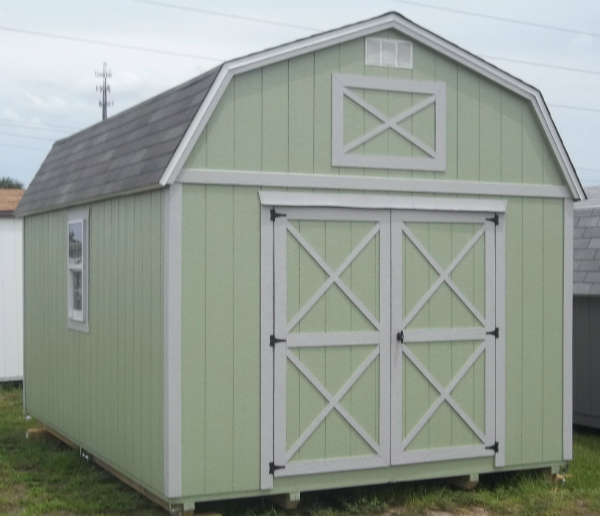 We are so very pleased with the shed we purchased from South Country Sheds. The quality is more than we expected and the people that worked with us so courteous and pleasant. Also, the people who delivered it did a wonderful job putting it right where we wanted it. We love it! Warm regards, Rita – Port Charlotte, FL
Robert & Kathy – North Port, FL
Hi Orlando, Just wanted you to know how much we LOVE our new shed!! It is perfect, in every way…it's built great, and has tons of storage space! I tell everyone I know about how much I love my shed, and have given out your name to several people. Hopefully, when they are looking to add a shed to their property, they will call you! Another thing I wanted you to know, the man that set the shed (along with his son) was absolutely wonderful. So awesome to watch the whole procedure, and he did it so smoothly! He also had his younger son with him, and that little boy was such a joy. He helped me get wood out of the lot next door while the shed was being set, and I'll never forget it! So…please let your crew know how appreciative my husband and I are of your excellent product. The customer service you provided us was incredible, you were always there to answer questions and help in any way, and believe me, you definitely helped me! Also, please let the set guy know how impressed we were of his service, he and his sons were so impressive! Thank you, thank you, thank you!! Kathy & Rob – North Port, FL
Bob – Port Charlotte FL
Hey Orlando, My shed is very nice. I'm very happy about my choice. My contractor also said this is the best built shed he has ever seen. Thanks, Bob
Kyle – Myakka City FL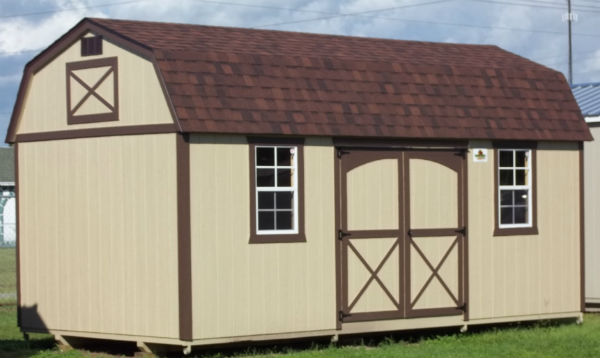 Hi Orlando, I have been meaning to email you all week, just wanted to thank you for the shed and that I was very happy with the quality of the shed and also the guys that came out were very nice and did a great job installing it. Thanks again!! Kyle
Dave – Sarasota FL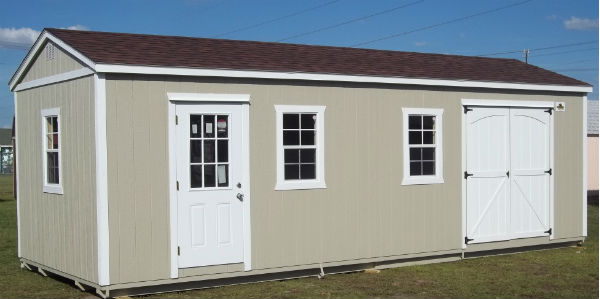 Just a note to let you know we really like the shed. The workmanship is good and Peter did a great job getting it in. I will definitely recommend your company to anyone. Thanks again, Dave
Les – Palm Harbor, FL
Just a quick follow up. Everything went well. The shed is exactly what I wanted. I need bigger, but who doesn't? The delivery was a little late, but the install went well and everything seems solid. Thanks for working with me and delivering a great product. Les
Scott – Lakeland FL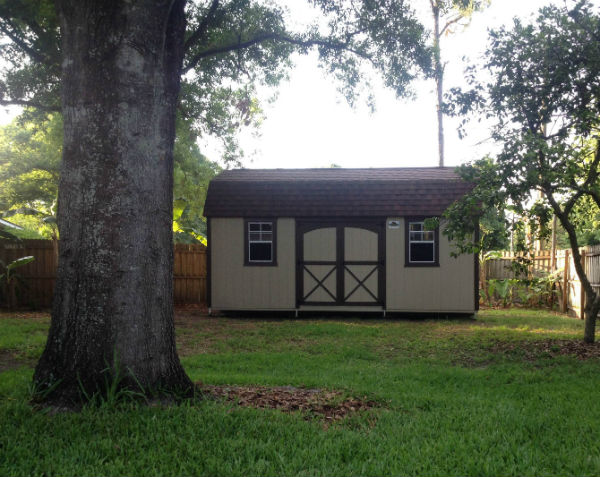 Orlando, The shed looks great and the gentlemen who delivered and set it up, Brad, was very helpful. Thanks for taking the time to speak with me regarding the shed design and available options. I will definitely recommend South Country Sheds to anyone looking for a quality product and great customer service. Thank you, Scott – Lakeland, FL
Chuck – Lake Placid FL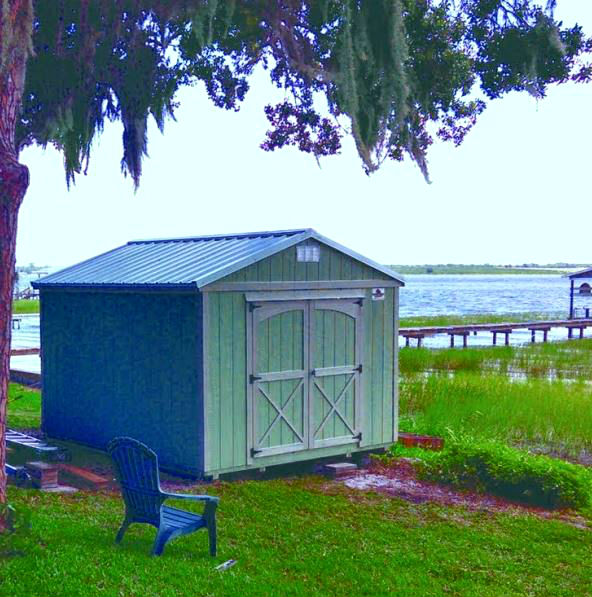 Dear Mr Penner, Just wanted to say thanks for your friendly and highly professional management of my shed construction and installation. The shed basic color is almost the same as our home and looks excellent in its setting. In particular, I was impressed with the Exceptionally Professional Performance of the young man who delivered and sited my shed. Chuck
Dan & Reina – St Petersburg FL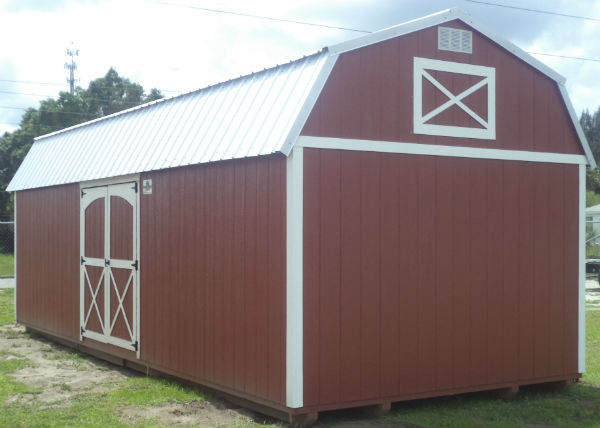 Good Morning, Orlando. Thanks for getting the shed to us earlier than expected & please give an extra thank you to the wonderful fellow who delivered & installed.We are grateful! — Reina
Noel – Naples FL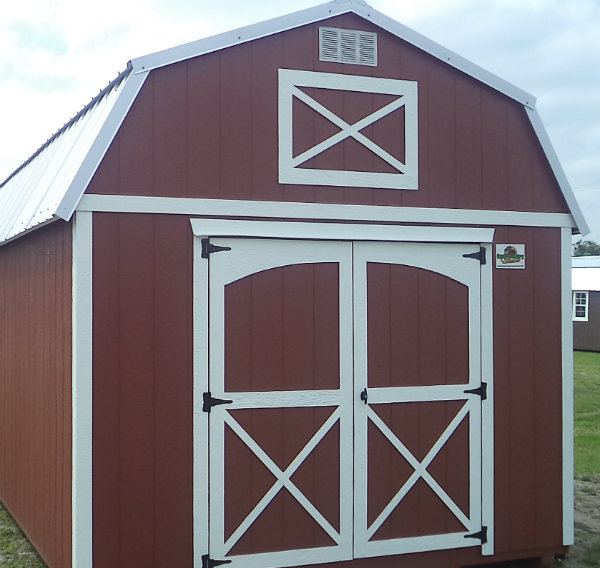 Orlando, I wanted to thank you for the shed that you sold and delivered to us. I know that on the day that we bought the shed we arrived near closing time, and yet you were responsive to our questions and needs even though it was after hours. Thank you for taking the time to explain to us the difference in sheds and making us feel comfortable even though we kept you late that Saturday afternoon. More importantly you delivered a great product two weeks earlier than promised. The delivery person did an exceptional job placing and installing the shed while minimizing the damage to our lawn. He was very polite, and a hard worker an excellent example of a professional. We thank you for your prompt service and excellent customer service. We have had many compliments on our shed and we are highly recommending your company to our friends and neighbors. Noel
Mike & Diane – Okeechobee FL
Extremely pleased with our purchase and installation of the shed. Your installer was professional, courteous and took great care during the entire process. Great job and thank-you. Mike and Diane
Randy – Nokomis FL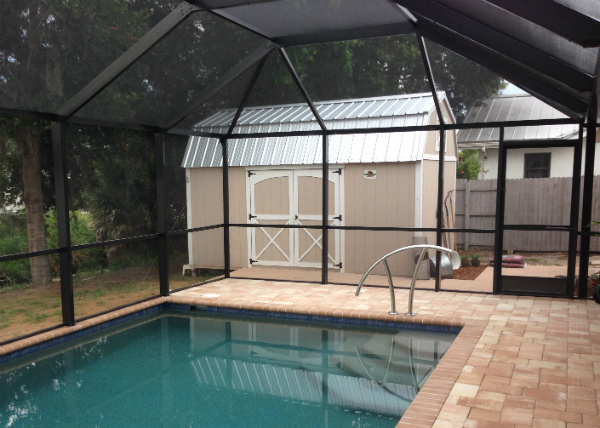 Orlando, I've attached a photo of the quality shed we bought from South Country Sheds. It fits in quite well with our home improvements. Looks great. Thought you might like the photo. Have a great week. Randy
Deb – Sebastian, FL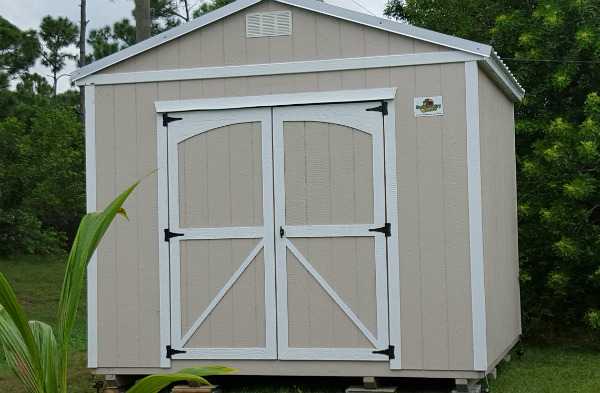 Hi Orlando. Just want you to know that we love the shed. Also, the young man who delivered it was professional and thorough – Awesome. Thank you very much. Deb
Glenn – Sebring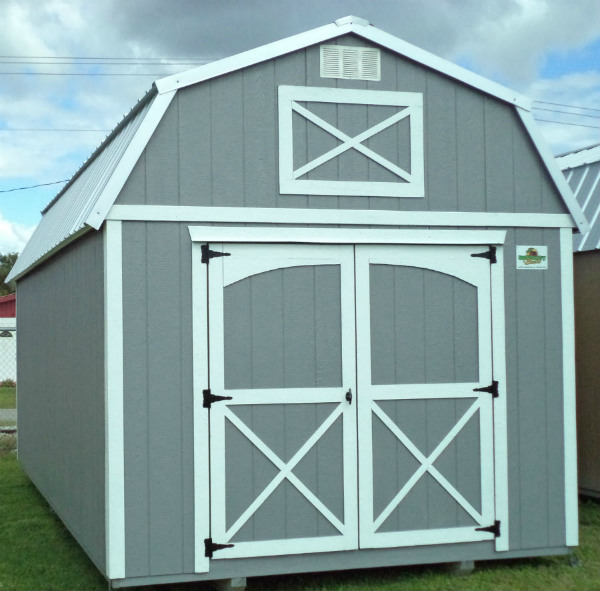 Thanks Orlando, I love my shed and get a lot of people asking about it and going inside to look at also!! I am trying to sell some for you !! Have a great day!! Your friend Glen
Roy – Loxahatchee FL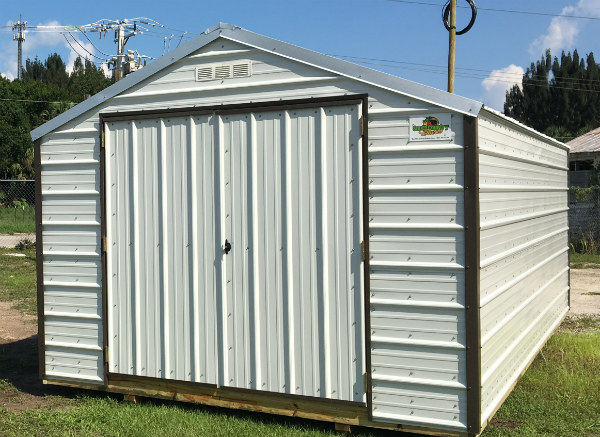 Orlando, Just wanted to write you to let you know how pleased I am with your company. The product is top notch , your customer service was Awesome and your installer was very professional and did an outstanding job. Thank you for everything. Roy
Gregg – Bradenton FL – Special design 8×12 – June 2016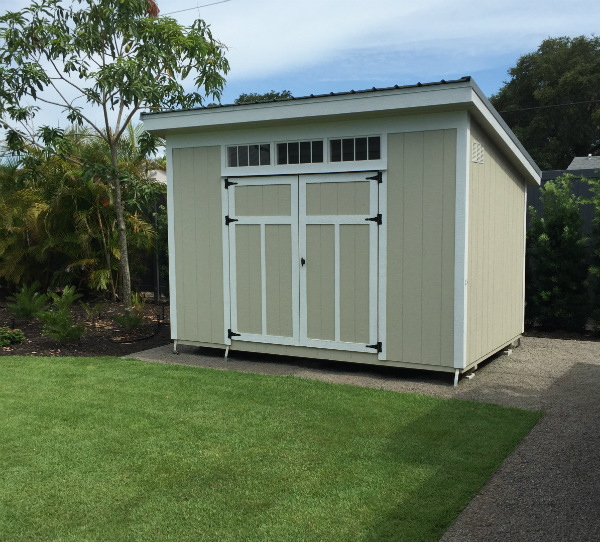 Dear Orlando, I wanted to express to you how pleased my wife and I are with the new storage shed from South Country Sheds. The shed is a great addition to our new home in Bradenton, providing storage space for our lawn/garden equipment. I am very impressed with the quality of workmanship and materials used. I'm equally impressed with the customer service you provide. From the beginning of the building process, my wants and wishes for the type of shed I wanted was taken into account. Moreover, South Country Sheds delivered an outstanding custom shed; one that handsomely compliments our home. Although the shed itself is outstanding, I would be remiss if I did not mention how impressed I was with the way the driver took extra steps to ensure that nothing on our property was damaged during the setup. It was truly a pleasure to deal with a company that cares about the quality of products produced and about the satisfaction of its customers. I highly recommend South Country Sheds for anyone wanting a well-built outdoor storage building. Sincerely, Gregg, Bradenton, FL
Kathy – Punta Gorda, FL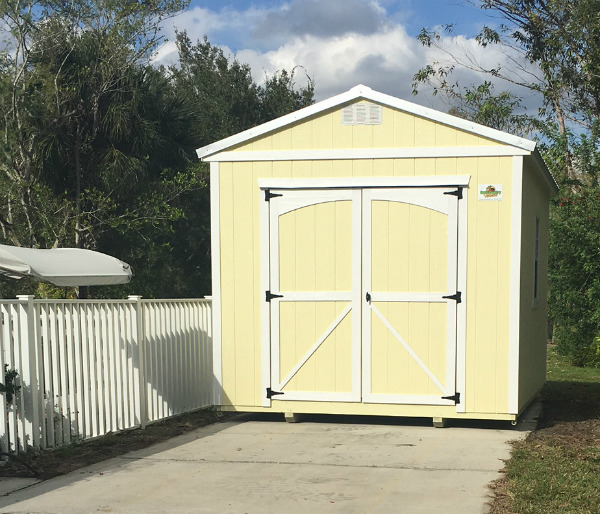 Hi Orlando I wanted to let you know that I am just absolutely thrilled with the shed. It way exceeds my expectations. Great job!!! Thank you so much Kathy Have a wonderful day!!
Mike – Naples, FL
Hello Orlando, I hope all is well and you and your family came through the hurricane unscathed. I am writing you today to tell you how impressed I am with my shed that South Country Sheds built for me. I do not normally write testimonial letters, however I must tell you about my shed. We are located in East Naples, we were on the eastern part of the eye-wall and the most destructive part of the storm passed right over us. We sat through 120 mph winds for an hour and a half, and it was gusting to 140 mph. I have the 12′ x 22′ lofted barn with a 3′ and 6′ doors and 2 windows. The only thing I did to protect the shed was to put plywood over the windows. I am happy to report to you that the shed is intact and passed the hurricane test with flying colors. Next to the shed there is a 40′ Oak Tree that was snapped at the truck and yet my shed was fine. I was afraid it would shift off the footing but it did not budge. When I inspected the inside it was bone dry. My shed looks just like it did the day it was delivered. I recommend your sheds to anyone who talks about buying one. Thanks again for the quality and craftsmanship that goes into your product. All the best, Mike Naples, FL
Kathleen – Eustis, FL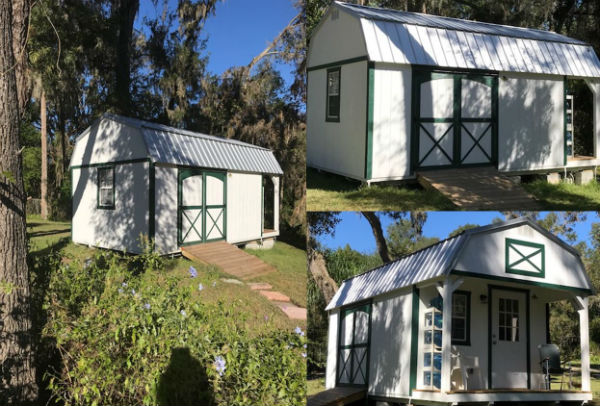 Thank you. By the way, I love the shed! It survived hurricane Irma with just minimal paint touch up. Have a friend who just got one too. She loves it also. It was great doing business with you.
Shaun – Loxahatchee FL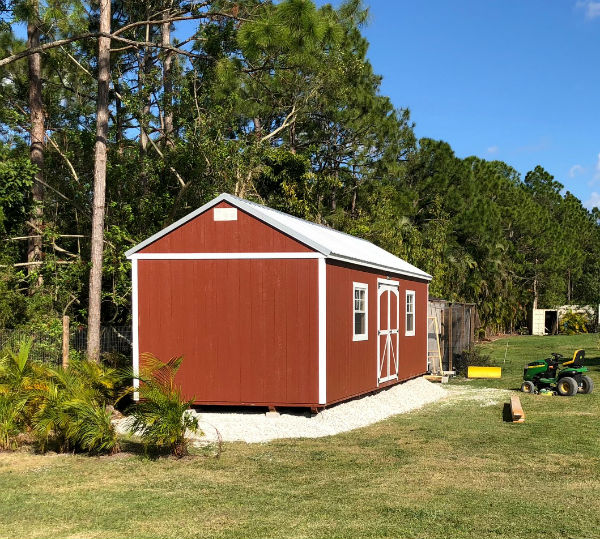 Hello Orlando, I just wanted to send you a quick message to thank you and your team for this beautiful shed. Excellent service all around from you to the driver who did a great job. Thanks again. Shaun
Klaus & Mickie – Fort Myers FL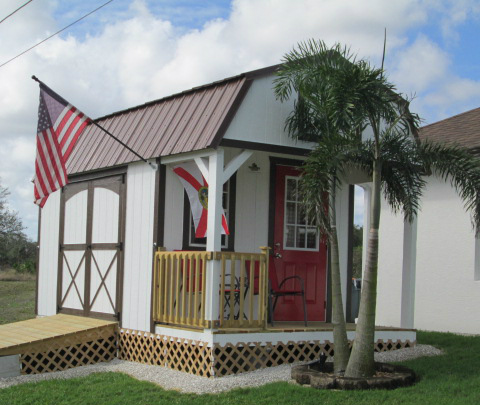 Hi Orlando Thank you for the good job you all do. Here are 3 Pic's from the Shed you build. Thanks again for a nice job done. Klaus and Mickie
Comodo SSL