Our Manufacturing Facility & Sales Office is at 1460 Price Child Street, Arcadia FL 34266
| | |
| --- | --- |
| South Country Sheds – Quality – Florida 160 mph Wind rating or upgrade to 200D Wind rating. -South Country Sheds is a friendly shed and barn provider committed to delivering quality to our customers. Our sheds are built to the highest standards and are engineered to a 160 mph wind load rating. We offer free delivery within a 50 mile radius of our factory (145 miles for sheds over $3300 base price), included in our affordable price. Call for current Free Delivery Areas. Our company only hires the most skilled craftsmen who use the highest quality materials to build our sheds. We offer a 10 year warranty. Our shed material suppliers offer their own warranties which include a 50 year siding warranty. Give us a call today for a FREE estimate! We offer Quality Storage sheds and barns for Gibsonton and Area. Our customer is first. We offer 5 styles all built with quality materials and craftsmanship. Sheds built for you. Not only are our sheds very functional, they have great appeal. Our sheds have the "I've gotta have it" look. We take satisfaction in a job well done. We believe in Gibsonton customer satisfaction one shed at a time. Our goal is a satisfied South Country Sheds customer in Gibsonton every time. We include delivery and setup. (some areas may have a extra delivery charges). Call for availability of sheds near me. | |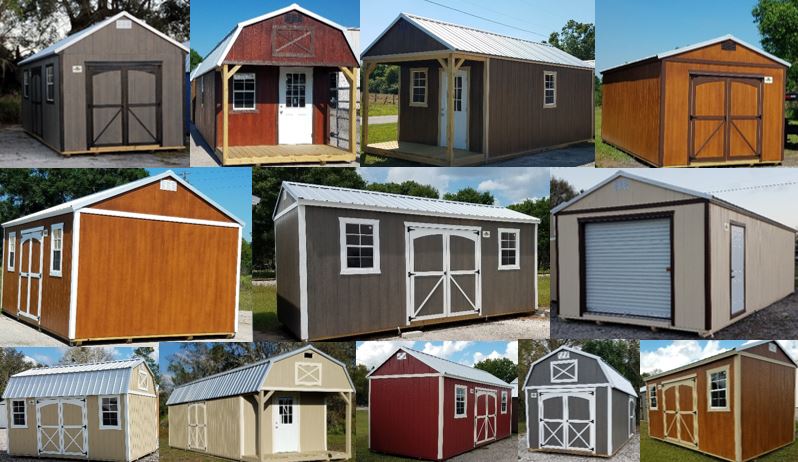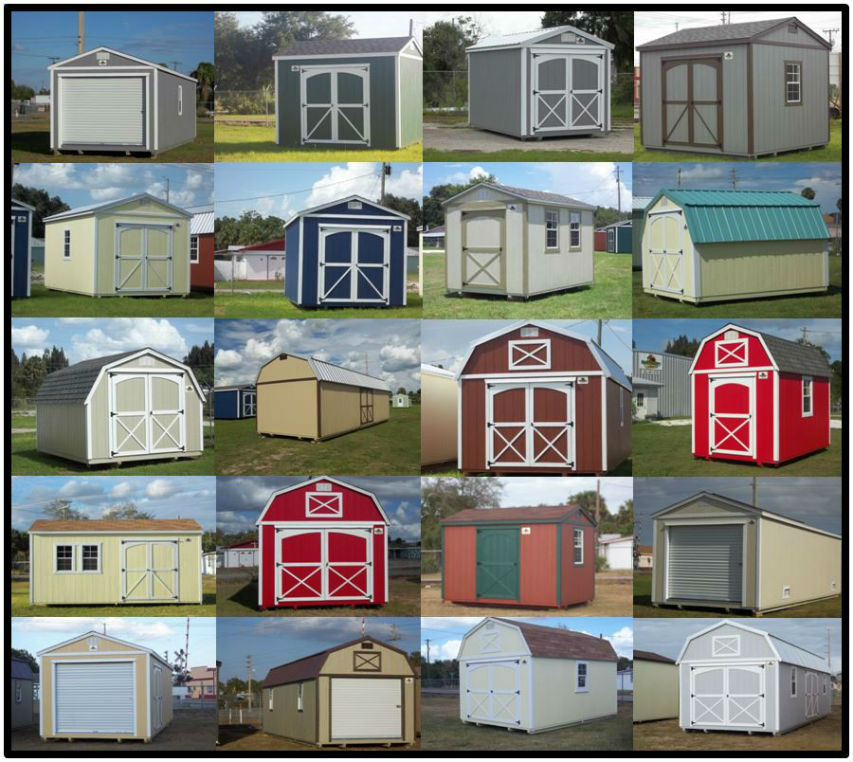 Storage Sheds nearby Gibsonton FL | Why You Should Get a Storage Shed
| | |
| --- | --- |
| | Over the years, storage sheds have evolved from basic storage structures to sturdy, multi-purpose annexes of the main home. Homeowners and businesses have found new and creative uses for storage sheds. In popular vacation destinations like Gibsonton, Florida where the population doubles during the peak season, storage sheds are useful in stowing extra furniture that may be required only during the height of the season. Gibsonton storage sheds are also used for purposes other than storage. With sufficient light and a power source, they can be used as woodworking shops or hobby rooms where one can contain the clutter and the noise that comes with handling power tools. Properly configured, a storage shed can be turned into an artist's studio as some in Gibsonton's art community have already discovered. Growing families have also stumbled on the potential of Gibsonton storage sheds as playhouses for young children. They are easy to set up and certainly more affordable than a renovation project. Dress up the exterior with flower boxes and vegetable planters and kids will have hours of fun in their own clubhouse. As a bonus, the storage shed will also hold over-sized toys and excess children's equipment, effectively de-cluttering the main house. When the children outgrow the playhouse, the storage shed can be re-purposed for household storage or as a potting shed. Gibsonton storage sheds can be designed and painted to complement the main house. As such, they have been converted into permanent pool houses to store outdoor furniture, pool supplies and pool toys when not in use. Creative homeowners have turned storage sheds into changing rooms with the shower area located nearby. However, it must be noted that local regulations may require a homeowner to obtain a permit prior to the installation of a Gibsonton storage shed. |
How to Choose the Perfect Storage Shed for Your Yard
| | |
| --- | --- |
| | Purchasing a storage shed can be handy for a few reasons. First of all, it can give you a handy place to store your tools, lawn equipment and more. It can also make a great addition to the outdoor aesthetic of your lawn. Therefore, you might be feeling pretty excited about your upcoming purchase, but you could be wondering how you can choose the perfect storage shed for your yard. There are a few things that you should keep in mind when making your purchase. For instance, you should decide how big of a shed you need for your purposes; in doing so, take a look at what you need to put in your shed and how much room you can afford to take up in your yard. Also, consider the color of your storage shed and how it will look in your lawn and beside your home. For lots of great choices, contact South Country Sheds today for a storage shed delivered to Gibsonton, ( FL ) Florida USA - We also provide portable warehouses, garage sheds, garden sheds, backyard sheds, cabin sheds, barn sheds, metal sheds and more. |
Why do I need a storage shed or barn?
| | |
| --- | --- |
| | If you do a lot of your yard work yourself, your garage may be cluttered with mowing, edging and pruning tools. This can be inconvenient as well as potentially dangerous, so you should contact South Country Sheds for your Gibsonton storage shed to see what they have to offer. A storage shed will give you a place to keep all of the things that you need for outdoor yard work without taking up valuable space in your garage. Having a storage shed on your property will also give you easier access to gardening and landscaping tools when you're doing planting, weeding and mowing chores. |
How to Match Your Storage Shed to Your Home
| | |
| --- | --- |
| | When a lot of people purchase storage sheds, they simply look for the shed that they can afford and that appears to be the right size for their needs. However, you will want to make sure that your new storage shed looks nice on your property, which means that you might want to match it to your home. There are a few ways to make sure that your new storage shed either matches or contrasts nicely with your home. Choosing a similar or same paint color and trim, for instance, can make your new storage shed really fit in on your property. You can also look for a storage shed that is built in a similar style as your home for a nice, well put together look. For information about the various storage sheds that are available and to find out more about purchasing the one that is right for you, contact South Country sheds for your Gibsonton style storage sheds today. |
Cover Up Landscaping That Has Been Neglected
| | |
| --- | --- |
| | In and near Gibsonton folks are busy and sometimes, don't have time to water the flowers or mow the backyard. Well, a storage shed is just the ticket, as it can hide any neglected areas of your backyard. Not only will it store the extra garden tools you bought years ago, but it will hide the fact that you could be a tired or retired landscaper. So get your storage shed delivered to your backyard in Gibsonton today. |
Storage in Gibsonton for such items as Lawn Mower, Patio Furniture or Kayak
| | |
| --- | --- |
| | In Gibsonton Florida whether you're looking for extra storage space or you need an organized area to hold lawn equipment (incl. lawn mower), a garden shed is essential. There are many options made from durable materials to ensure they last for years to come. You can keep your lawn mower parked, protected from the hot Gibsonton Florida sun or tuck away all your patio furniture when not in use. Outdoor storage provides space for all types of items and comes in handy when you are running out of room in your garage, or attic. A shed is a great place to store your lawn tools and patio furniture in the off season which is not very often in Gibsonton Florida. Pool and patio storage allow you to keep your kids' pool toys nearby without cluttering your backyard. No matter how much storage you need South Country Sheds selection can accommodate all your lawn mowers and other lawn equipment while complementing your outdoor decor. Our storage options come in a variety of finishes to blend in with any type of backyard design. One of our quality sheds can even store unused pottery. Barn, shed and other designs are available. Find an outdoor storage solution that fits your family's lifestyle for Gibsonton Florida's beautiful weather. With all the access to water in Gibsonton Florida a Kayak will need a storage place. A well-built shed will last longer in Gibsonton Florida than a canopy will. Outdoor furniture always needs to get out of the Gibsonton rain for protection. Whether you're a serious gardener with plenty of garden gear to organize, or you want to store all kinds of backyard and pool toys, you'll find the perfect shed at South Country Sheds. -- My Name is Orlando and I can get you the best shed suited for Florida. |

Come down to Arcadia, pick out your shed and then see our other attractions. Fine authentic dining or tea house and browse one of our almost 20 antique shops. You of course can also call or email us.
Come down to Arcadia! Let's plan your special storage shed today!

If you come down to Arcadia to our plant and display yard, we can sit down and discuss your special shed today. Storage sheds made just for you, your way while maintaining our standard quality.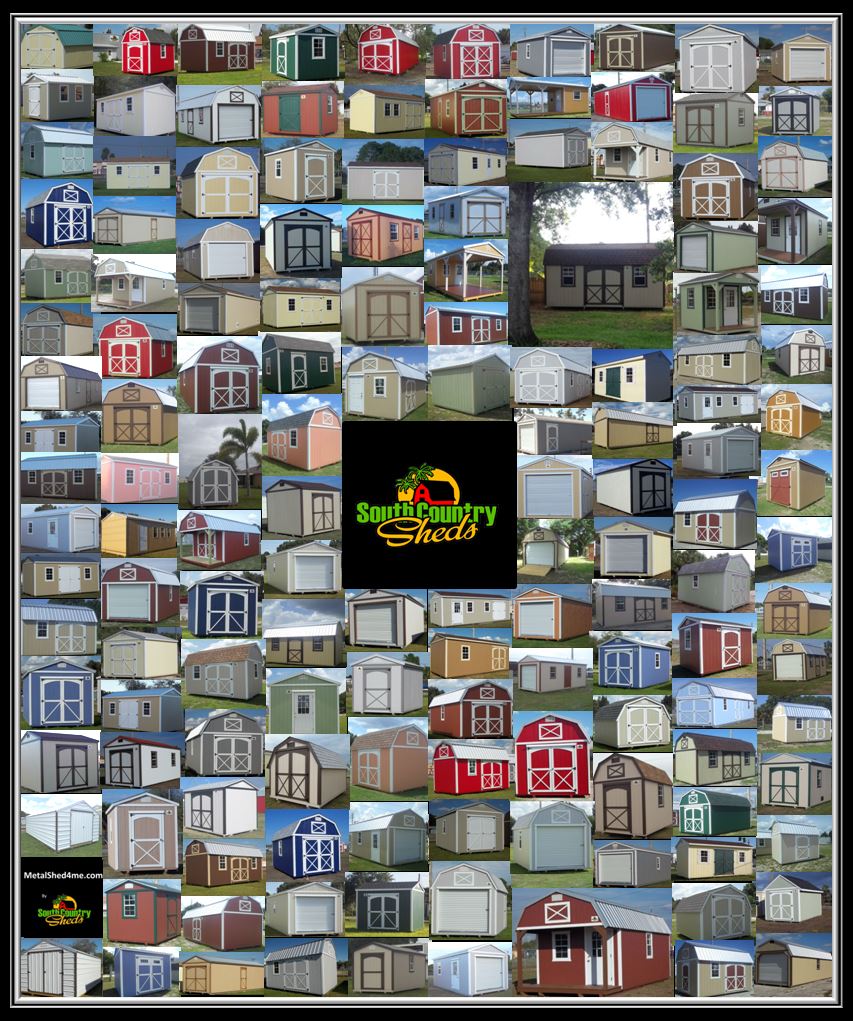 Our Manufacturing Facility & Sales Office is at 1460 SW Price Child Street Arcadia FL 34266
Quality Sheds and Barns for Gibsonton and area! Quality every day and every time!
| | |
| --- | --- |
| | Quality Sheds and Barns for Gibsonton and area! Quality every day and every time! That sounds like a tall order for sheds. At South Country Sheds we make that a reality. Quality is not in our name but is the name of our game. |
AREAS WE COVER WITH OUR QUALITY STORAGE SHEDS
| | |
| --- | --- |
| | South Country Sheds and barns are available to many locations including Florida towns of Adamsville ,Alachua ,Aloma ,Altamonte Spring ,Altamonte Springs ,Altamonte Springs ,Altoona ,Alturas ,Alva ,Alva ,Anna Maria ,Anthony ,Apollo Beach ,Apollo Beach ,Apopka ,Apopka ,Arcadia ,Archer ,Aripeka ,Astatula ,Astor ,Auburndale ,Auburndale ,Ava Maria ,Avon Park ,Azalea Park ,Azalea Park ,Babson Park ,Balm ,Barefoot Bay ,Bartow ,Bartow ,Basinger ,Bay Pines ,Bell ,Bell Isle ,Belle Glade ,Belleair Beach ,Belleview ,Beverly Hills ,Bloomingdale ,Boca Grande ,Boca Raton ,Bokeelia ,Bonita Springs ,Boxwood ,Boynton Beach ,Braden River ,Bradenton ,Bradenton Beach ,Bradley ,Brandon ,Brandon ,Brevard County ,Briny Breezes ,Bronson ,Brooker ,Brooksville ,Broward County ,Buena Ventura Lakes ,Bunnell ,Burnt Store ,Burnt Store Marina ,Bushnell ,Caloosahatchee ,Canal Point ,Cape Canaveral ,Cape Coral ,Cape Coral ,Cape Coral ,Cape Coral Center ,Captiva ,Carrollwood ,Cassadaga ,Casselberry ,Cedar Key ,Center Hill ,Central Naples ,Charlotte County ,Chiefland ,Chokoloskee ,Christmas ,Chuluota ,Citra ,Citrus Park ,City Of Sunrise ,Clarcona ,Clarcona ,Clearwater ,Clearwater ,Clearwater Beach ,Clermont ,Clermont ,Clewiston ,Cocoa ,Cocoa Beach ,Coconut Creek ,Coleman ,College Parkway ,College Plaza ,Collier County ,Conway ,Copeland ,Coral Springs ,Cortez ,Crescent Beach ,Crescent City ,Cross City ,Crystal Beach ,Crystal River ,Crystal Springs ,Cypress Gardens ,Dade City ,Dania ,Davenport ,Davenport ,Davie ,Daytona Beach ,De Leon Springs ,DeBary ,Deerfield Beach ,DeLand ,Delray Beach ,Deltona ,DeSoto County ,Diplomat ,Dona Vista ,Dover ,Duette ,Dundee ,Dunedin ,Dunedin ,Dunlawton ,Dunnellon ,Dunnellon ,Durant ,Eagle Lake ,East Naples ,Eaton Park ,Eatonville ,Eatonville ,Eau Gallie ,Edgewater ,Edgewood ,Egypt Lake ,El Jobean ,Elfers ,Elfers ,Elkton ,Ellenton ,Eloise ,Englewood ,Estero ,Eustis ,Everglades City ,Fairview Shores ,Fairvilla ,Felda ,Felda ,Fellsmere, Fern Park ,Fern Park ,Ferndale ,Fiddlers Creek ,Flagler Beach ,Florahome ,Floral City ,Forest City ,Forest Lakes ,Fort Denaud ,Fort Lauderdale ,Fort Meade ,Fort Myers ,Fort Myers Beach ,Fort Ogden ,Fort Pierce ,Fort White ,Frostproof ,Fruitland Park ,Fussels Corner ,Gainesville ,Geneva ,Georgetown ,Gibsonia ,Gibsonton ,Gibsonton ,Glades County ,Glen Ridge ,Golden Gate ,Goldenrod ,Goodland ,Gotha ,Grand Island ,Grandin ,Grant ,Green Cove Sprinngs ,Greenacres ,Grenelefe ,Grove City ,Groveland ,Gulf Hammock ,Haines City ,Haines Creek ,Hallandale ,Hampton ,Hancock ,Hanes City ,Hardee County ,Harker ,Hastings ,Haverhill ,Hawthorne ,Heathrow ,Hendry County ,Hernando ,Hernando County ,High Springs ,Highland Beach ,Highland City ,Highlands County ,Hillsborough County ,Hobe Sound ,Holiday ,Holiday ,Holly Hill ,Hollywood ,Holmes Beach ,Homeland ,Homosassa ,Horseshoe Beach ,Howey In The Hil ,Hudson ,Hunt Club ,Immokalee ,Indialantic ,Indian Harbor Beach ,Indian Lake Estates ,Indian River County ,Indian River Sho ,Indian Rocks Beach ,Indian Shores ,Indiantown ,Inglis ,Intercession City ,Inverness ,Island Grove ,Istachatta ,Jacarandas ,Jensen Beach ,Jupiter ,Kathleen ,Kenansville ,Kenneth City ,Keystone Heights ,Killarney ,Kissimmee ,Kissimmee ,La Crosse ,Labelle ,Labelle ,Lacoochee ,Lake Alfred ,Lake Alfred ,Lake Buena Vista ,Lake Butler ,Lake County ,Lake Hamilton ,Lake Harbor ,Lake Helen ,Lake Magdalene ,Lake Mary ,Lake Mary ,Lake Monroe ,Lake Panasoffkee ,Lake Park ,Lake Placid ,Lake Tarpon ,Lake Wales ,Lake Worth ,Lakeland ,Lakeland ,Lakeland ,Lakeshore ,Land O Lakes ,Lantana ,Largo ,Largo ,Laurel ,Lecanto ,Lee County ,Leesburg ,Lehigh Acres ,Lighthouse Point ,Lithia ,Lithia ,Lochloosa ,Lockhart ,Lockhart ,Lockmoor Waterway Estates ,Longwood ,Longwood ,Lorida ,Loughman ,Loxahatchee ,Lutz ,Lutz ,Madeira Beach ,Madeira Beach ,Maitland ,Maitland ,Malabar ,Manatee County ,Mango ,Mango ,Marco Island ,Margate ,Mariner ,Martin County ,Mascotte ,Mc Intosh , Melbourne Beach ,Melrose ,Merritt Island ,Micanopy ,Mid Florida ,Mid Venice ,Miles City ,Mims ,Minneola ,Minneola ,Monroe County ,Montverde ,Montverde ,Moore Haven ,Morriston ,Mount Dora ,Mulberry ,Mulberry ,Murdock ,Myakka City ,Nalcrest ,Naples ,Naples ,Naples Manor ,Naples Park ,Narcoossee ,New Port Richey ,New Smyrna Beach ,Newberry ,Nichols ,Nobleton ,Nocatee ,Nokomis ,North Coral Springs ,North Fort Myers ,North Fort Myers ,North Naples ,North Palm Beach ,North Port ,North Port ,Oak Hill ,Oak Ridge ,Oakland ,Oakland ,Oakland Park ,Ocala ,Ochopee ,Ocklawaha ,Ocoee ,Ocoee ,Odessa ,Okahumpka ,Okeechobee ,Okeechobee County ,Old Town ,Oldsmar ,Oldsmar ,Olga ,Ona ,Oneco ,Orange City ,Orange County ,Orange Lake ,Orange Mount ,Orange Springs ,Orlando ,Orlando ,Orlando ,Orlo Vista ,Orlovista ,Ormond Beach ,Osceola County ,Osprey ,Osteen ,Otter Creek ,Oviedo ,Oviedo ,Oxford ,Ozona ,Pahokee ,Paisley ,Palatka ,Palm Bay ,Palm Beach ,Palm Beach County ,Palm Beach Garde ,Palm City ,Palm Coast ,Palm Harbor ,Palm Harbor ,Palma Sola ,Palmdale ,Palmetto ,Parrish ,Pasco County ,Patrick A F B ,Pelican ,Pembroke Pines ,Penney Farms ,Pierson ,Pine Castle ,Pine Castle ,Pine Hills ,Pine Hills ,Pine Island ,Pinellas County ,Pinellas Park ,Pinellas Park ,Placida ,Plant City ,Plant City ,Plantation ,Plymouth ,Poinciana ,Polk City ,Polk City ,Polk County ,Polk County ,Pomona Park ,Pompano Beach ,Port Charlotte ,Port La Belle ,Port Orange ,Port Richey ,Port Saint John ,Port Saint Lucie ,Port Salerno ,Punta Gorda ,Punta Gorda ,Putnam Hall ,Reddick ,Ridge Manor ,Ridge Manor Estates ,Ridge Manor West ,River Ranch ,Riverview ,Riverview ,Riviera Beach ,Rockledge ,Roseland ,Royal Palm Beach ,Ruskin ,Ruskin ,Safety Harbor ,Saint Augustine ,Saint Cloud ,Saint James City ,Saint Leo ,Saint Petersburg ,Salt Springs ,San Antonio ,San Mateo ,Sand Lake ,Sanford ,Sanibel ,Sarasota ,Sarasota ,Sarasota County ,Sarasota Square , Satsuma ,Scottsmoor ,Sebastian ,Sebring ,Seffner ,Seminole ,Seminole ,Seminole County ,Seville ,Shady Hills ,Sharpes ,Silver Springs ,Sky Lake ,Sorrento ,South Bay ,South Highpoint ,South Trail ,South Venice ,Southside ,Spring Hill ,Springs Plaza ,St Cloud ,St Lucie County ,Starke ,Steinhatchee ,Stuart ,Summerfield ,Sumter County ,Sumterville ,Sun City ,Sun City Center ,Suncoast Estates ,Sunniland ,Sunrise ,Suwannee ,Sydney ,Tallevast ,Tamarac ,Tampa ,Tangerine ,Tarpon Springs ,Tarpon Springs ,Tavares ,Temple Terrace ,Tequesta ,Terra Ceia ,Thonotosassa ,Tice ,Tierra Verde ,Titusville ,Town N Country ,Trenton ,Trilby ,Union Park ,Urban Estates ,Valrico ,Venice ,Ventura ,Venus ,Vero Beach ,Village Of Golf ,Vineyards ,Wabasso ,Waldo ,Wauchula ,Waverly ,Weirsdale ,Welaka ,Wesley Chapel ,West Palm Beach ,West Palm Beach ,Westchase ,Westgate ,Whitney Beach ,Wildwood ,Williston ,Wimauma ,Windermere ,Windermere ,Winter Beach ,Winter Garden ,Winter Garden ,Winter Haven ,Winter Haven ,Winter Park ,Winter Park ,Winter Springs ,Winter Springs ,Worthington Springs ,Yalaha ,Yankeetown ,Zellwood ,Zephyrhills ,Zolfo Springs , (We are not limited to these areas listed or shown on map. We will charge extra freight to some of these areas. Even if your area or town is listed here you will need to check with your local building dept for local regulations.) |
Gibsonton STORAGE SHED MOVING
| | |
| --- | --- |
| | CALL VAUGHN WITH ShedPro LLC FOR YOUR Gibsonton AND AREA SHED MOVING REQUIREMENTS AT 863-303-4439. VAUGHN WITH ShedPro LLC HAS BEEN MOVING SHEDS FOR 5+ YEARS AND IS YOUR MAN FOR YOUR Gibsonton AND AREA SHED MOVING NEEDS. |